S-5! Donates $10,000 to Black Forest Fire Rescue
September 8, 2020 - 4-Day Bike-a-Thon Kicks Off 
This week, S-5 made a $10,000 donation to the KOAA/SHIELD616 virtual telethon to, as they like to say at S-5, get it started - the right way. Rob Haddock, CEO, and Founder says, "We're willing, we're able and I wanted to see this fundraiser get kicked off the right way. It's incumbent on me and it's my privilege to be able to do this for SHIELD616 and for my own Black Forest Fire department, to protect our protectors."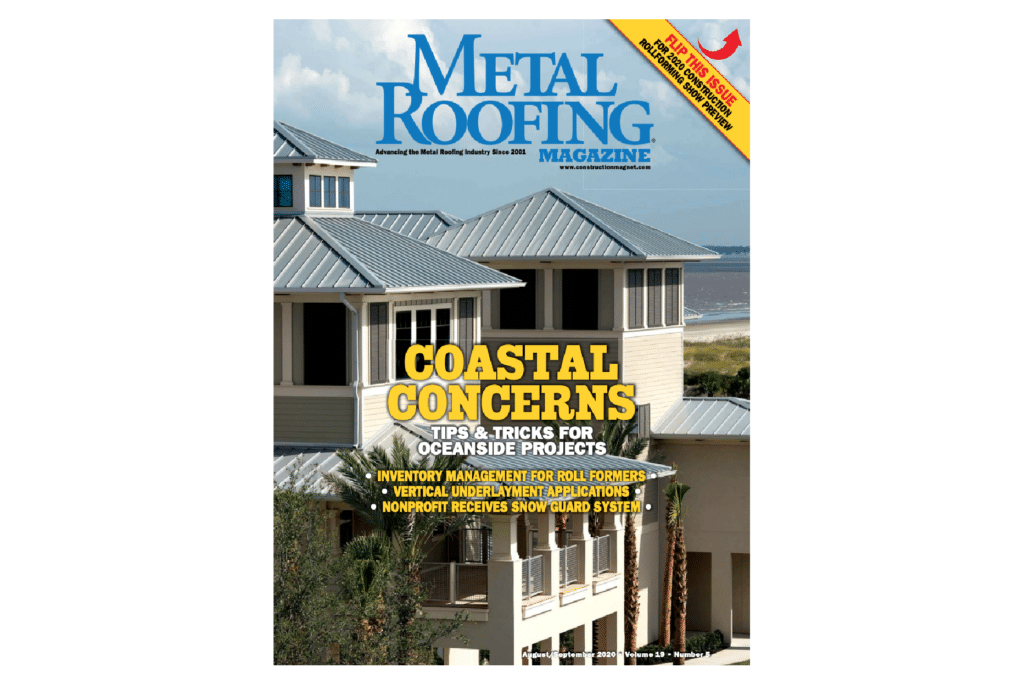 Advice from a Seasoned Professional - CEO & Founder of S-5! Rob Haddock
August/September 2020 - "When it comes to marine environments, the metal roofing playbook is very different from inland applications. This is due, in large part, to the way oxide layers do (or don't) react with each other on the roof and also in the presence of sodium and chlorides (salt). To add complexity, chloride levels vary within different seas and areas within the same ocean. Volcanic atmospheres in many coastal and island environments can exacerbate corrosive effects as well. And "wet" chlorides are more corrosive than dry ones. "Wet" chlorides are more prevalent in cool, damp climates like Maine and the Pacific Northwest." Click to read more how Haddock advises protecting metal roofs from corrosive air and moisture.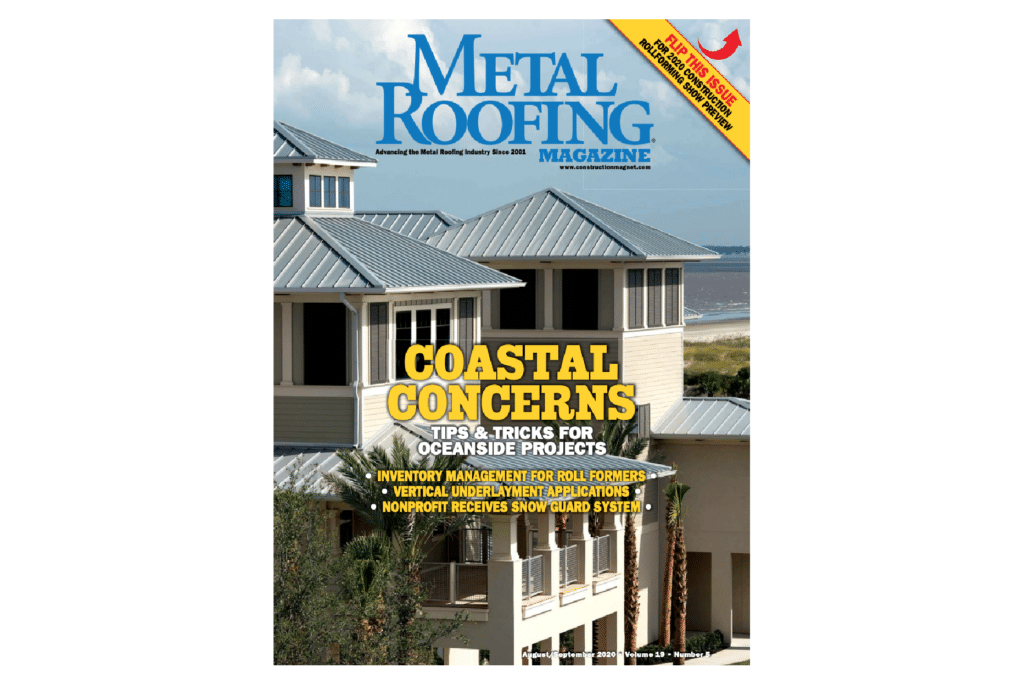 Considerations and Concerns for Coastal Installations
August/September 2020 - S-5! contributed to a cover story in Roofing Magazine. Here is a snippet: "...when considering metal roof types in coastal areas, an important factor is extreme wind forces that will try to tear any roof from its mountings. Standing seam metal has a distinctive advantage over other membrane and asphaltic roof types because it serves as a "structural" covering, meaning it can be engineered to withstand almost any forces imposed by wind. Increasing the frequency of attachment, increasing the gauge thickness of the metal, decreasing the panel width, and using external "WindClamps™", or any combination of the above, will generally increase the durability of the roof in a windstorm. These remedies are not guesswork, but a matter of science, engineering, and testing."
Metal Roofing Magazine's Project of the Month – Hope Hollow, Columbus, Ohio
September 2020 - Cancer Care Home's New Metal Roof Receives Snow Guard System
Hope Hollow is a non-profit organization that provides lodging, meals, transportation, and emotional support at no cost to cancer patients and their loved ones financially in need while traveling to Columbus, Ohio for cancer treatment.
Founders, Kevin and Jane Clark, endured their own trying journey. Jane is a two-time cancer survivor who persevered through three surgeries and seven weeks of radiation treatment. In 2009, they bought a home built in 1939 designed after a Pennsylvania farmhouse, and together, they spent the next five years restoring it into a cancer home. Due to the snowy Ohio winters, they were advised to install snow guards, specifically, ColorGard® by S-5! 
S-5! Project Achieves Front Cover Coverage on Roofing Magazine
July/August 2020 - The Calcaire House is a 15,000-square-foot modern Colorado single-family residential compound consisting of five interconnected buildings. Floor-to-ceiling glass connects the interior space to the exterior landscape, offering spectacular views of the Boulder Flatirons. A combination of exposed timber, stone and steel structural design elements, and exposed custom roof trusses complement the gabled standing seam metal roof.
The Solar Revolution was charged with installing more than 60 kilowatts of solar dispersed over multiple rooftops. Boulder Roofing installed both standing seam metal and TPO roof systems.
S-5! Attachment Solutions Secure Large-Scale Solar Conversion Project
January 9, 2020 - Illinois Manufacturing Facility Utilizes State-of-the-Art Clamps and Brackets
S-5!, the leading authority on metal roof attachment solutions, recently participated in a complex solar conversion project at a manufacturing facility in Clinton, Illinois.
This large-scale, multi-faceted project at the McElroy Metal plant required a two-fold approach as the facility consisted of two different metal roof types: a face-attached trapezoidal profile on one section of the facility and a standing seam profile on another. The mission was to convert the roof to solar.
S-5! Prevails over ACE Clamp/PMC Finding of Infringement
January 7, 2019 - As the market leader and innovator in this field, S-5! products are often copied. This practice is legal when patents have expired. On occasion, some of our inventions are copied during the active term of our patents. When that occurs, S-5! formally protects its innovations. PMC Industries, Inc. (AceClamp®), introduced to the market the ColorSnap System in 2016. Advised the system infringed upon our active US Patent No. 6,470,629, PMC refused to remove the system from the market. They also refused reasonable attempts at licensure from S-5! So, S-5! brought suit for infringement in Colorado Federal District Court. The action was later transferred to PMC's home state of Connecticut for trial, which concluded in December 2018.
DualGard™ snow guard system gets "Top Product"
May 14, 2018 - DualGard snow retention system recently gained national recognition from Building Design + Construction (BD+C) Magazine as a "Top Product" for 2017 in the Building Envelope Category.
The DualGard system uses an assembly of two one-inch pipes to keep snow and ice in place while it melts while preserving roof warranty. It can be painted, powder-coated, or anodized, and fully engineered for specific roof and environment. The system uses S-5! mini clamps and comes with two sizes of snow clips to fit any seam profile. DualGard effectively protects people and property from dangerous roof snow avalanches. 
S-5-Z- and S-5-E- Clamp Families Now Have National Technical Approval
April 20, 2017 - All components in Germany related to fixing solar products for PV installations needs to carry a German approval by the DIBt (German Center of Competence for Civil Engineering—Authority of the German Government). The S-5-Z- and S-5!-E-Clamps now have the national technical approval. No: Z-14.4-719.
The S-5-Z clamps were tested on all the following international round bulb seam profiles:
Kalzip-Aluminium-Stehfalzprofil from Kalzip
BEMO-FLAT-ROOF from Bemo
ALUFALZ and FALZ-RIPP from Aluform
The S-5-Z clamp, S-5-Z Mini and S-5-Z Mini-FL are currently the only clamps on the market with approval for these round bulb seam profiles. The tests for the S-5-E clamps were made on the Rheinzink double-folded seam system. The S-5-E clamp, S-5-E Mini and S-5-E Mini-FL are currently the only clamps on the market with approval for this double-folded standing seam roof.
Each clamp was tested in all four load directions:
The S-5-E und S-5-Z clamps families have been tested according to the test program for general approval by the DIBt. The extensive test procedure was made by the well-known institute KIT (Karlsruhe Institute of Technology).
The test results proved the outstanding performance produced by S-5! clamps. Combined with the versatile possibilities of fixing on S-5! clamps, they are the best choice to attach almost everything without penetration to the roof. They offer reliability, permanence and holding strength unmatched by any other attachment system.
S-5! Z- and E- Standing Seam Clamps Are Now Approved by the Building Authorities
April 7, 2017 – Since the publication of the "Instructions for the production, planning and assembly of solar systems" of the DIBt, the fasteners used require a building inspection certificate. The group of the S-5! Z- and E- standing seam clamps fulfill this requirement with the approval of the DIBt (Z-14.4-719).
The S-5! Z clamps were tested on the following round rebate profiles of all these internationally active German manufacturers:
Kalzip aluminum standing seam profile of Kalzip
BEMO-FLAT-ROOF by Bemo
ALUFALZ and FALZ-RIPP from Aluform
The Z clamp, Z Mini and the Z Mini FL from S-5! have the approval for all these round fold profiles relevant to the market. For applications on the double standing seam the S-5! E terminals on the Rheinzink double seam system have been tested and approved. The E Clip, E Mini and E Mini FL from S-5! are currently the only clamps which have a building inspection certificate for this double standing seam roof.
The result of all tests was that the carrying capacity of the S-5! terminals are higher than those of the profiles. The tests and approval by the DIBt thus confirm the S-5! Z and E terminals are known for their high quality and load-bearing capacity, as well as their suitability for attaching components, in particular solar systems. Sales in Europe are carried out by RoofTech GmbH in Weil der Stadt (www.rooftech.de).